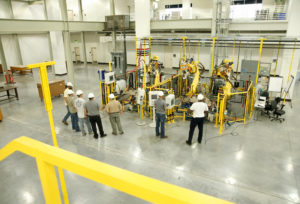 Ensure the Highest Level of Production on Your Project
Thanks to rigorous training in state-of-the-art facilities, UBC millwrights are recognized as the best trained and most well-prepared for any project in any location. Whether we work in the booming oil and gas industry along America's Gulf Coast or the surging material handling industry in distribution plants across North America, our standardized training ensures that every millwright possesses the same superior skills.
Mission-Critical Work in Every Industry
From automotive and aerospace to energy and pharmaceuticals, UBC millwrights can be found everywhere.
Here's a sampling of our areas of expertise.
Core Capabilities
Aerial lift
ASRS systems
Blueprint reading
Carousels
Clean room procedures
Conveyors
Electrical and mechanical design and installation
Flowserve pump repair
Forklift operation
Hytorc bolting
Laser shaft alignment
Layout
Lift truck operation
Machinery alignment
Machinery installation
Management software
Material handling processes
Mechanical seal installation
Monorail & bulk conveyor systems
MSDS
Optical alignment
Project management
Rigging
Rim and face alignment
Scaffolding
Software controls
Systems integration
Turbine installation and maintenance
Valve installation and repair
Vibration analysis
Welding
Close
Quality work. Competitive cost. Consistent results.

Productivity
Superior productivity is guaranteed with millwrights from the United Brotherhood of Carpenters. Contractors who employ UBC millwrights have access to unlimited, ongoing training for any project, and an experienced workforce that gets the big picture: When the project is successful, everyone benefits.

Reliability
Starting with pre-project conferences to outline the scope, manpower needs, and scheduling, our contractors keep lines of communication open throughout the life of a project. And we adjust work schedules around peak production hours to keep projects on time while your production doesn't miss a beat.

Safety
At the core of every training course and on the minds of every jobsite crew is safety. A safework site is achieved only by comprehensive training for every millwright on every project. That's why our members must complete and achieve mastery of a full line of health and safety training courses.

Training
The UBC's International Training Center is an unparalleled state-of-the-art facility where millwrights hone their knowledge and skills in classrooms and real-life jobsite scenarios. Our training protocols ensure that UBC millwrights are trained to standards that produce the same highly skilled labor regardless of industry or location.